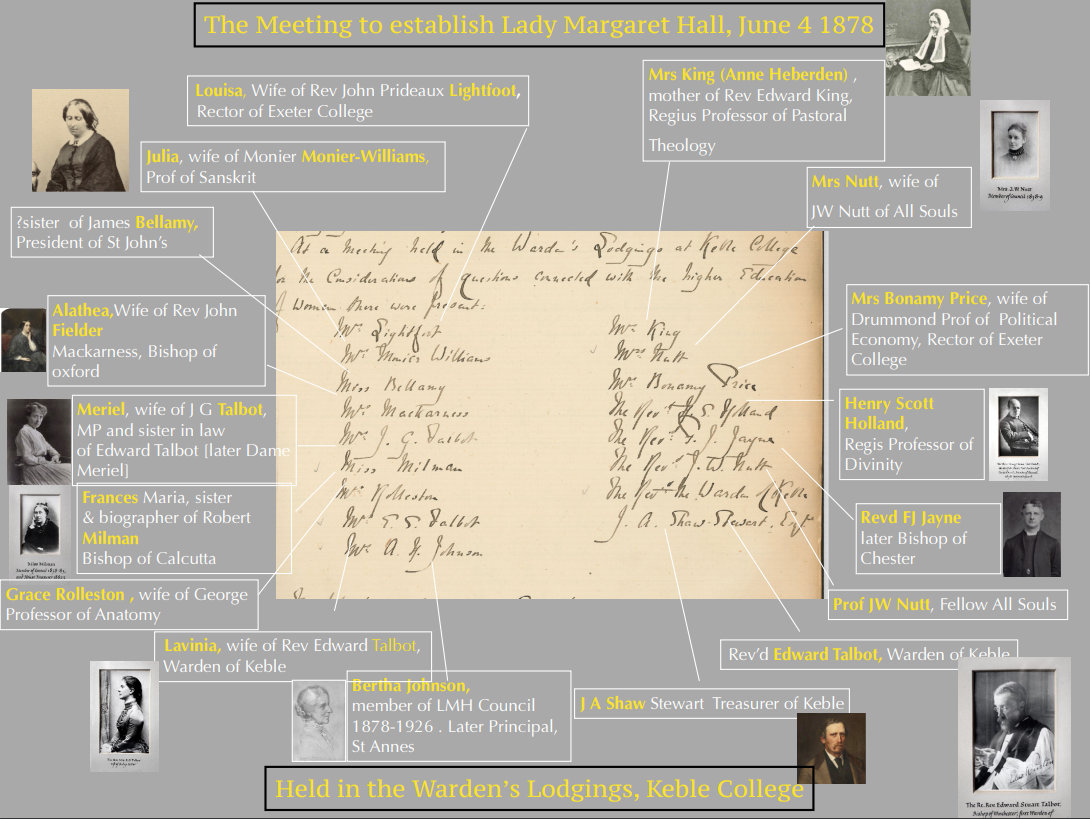 Today at LMH we're celebrating the 140th anniversary of the meeting which changed Oxford for ever.
On 4 June 1878, a group of 17 women and men met at the Warden's lodgings at Keble College to debate the delicate issue of admitting women to a university which, for the best part of 800 years, had refused to allow them in. 
The meeting was chaired by the Warden of Keble, the Rev Edward Talbot, who - along with his wife Lavinia - had recently been impressed by a visit to Girton College, Cambridge. 
Many Oxford luminaries had set their faces against admitting women. The idea was variously dismissed as inappropriate, dangerous and repellent. Men were intellectually superior. To have women around would be distracting and pointless. 
So it was quite a thing for 17 people - five men and 12 women - to meet and decide to form the Hall of Residence that, 16 months later, would open in Norham Gardens in October 1879 as Lady Margaret Hall.
Who were the participants who did something remarkable that day in June 1878? From the minute book we know there were 12 women, mostly the wives of Oxford academics, and five men, mostly clerics. 
Oxford being Oxford, things were not quite simple. The meeting was described as "stormy" on account of a minority who wanted a non-denominational college or hall, as opposed to the decidedly CofE LMH. Some of these went off and founded Somerville, which open doors on the same day in 1979.
But this meeting on 4 June is the date of the founding of the first women's college in Oxford - built, in the words of our Vice Principal, Helen Barr, out of 'dialogue and defiance...'. Public men joined force with domestic women. So-called Angels of the house became co-founders of an Oxford Hall.