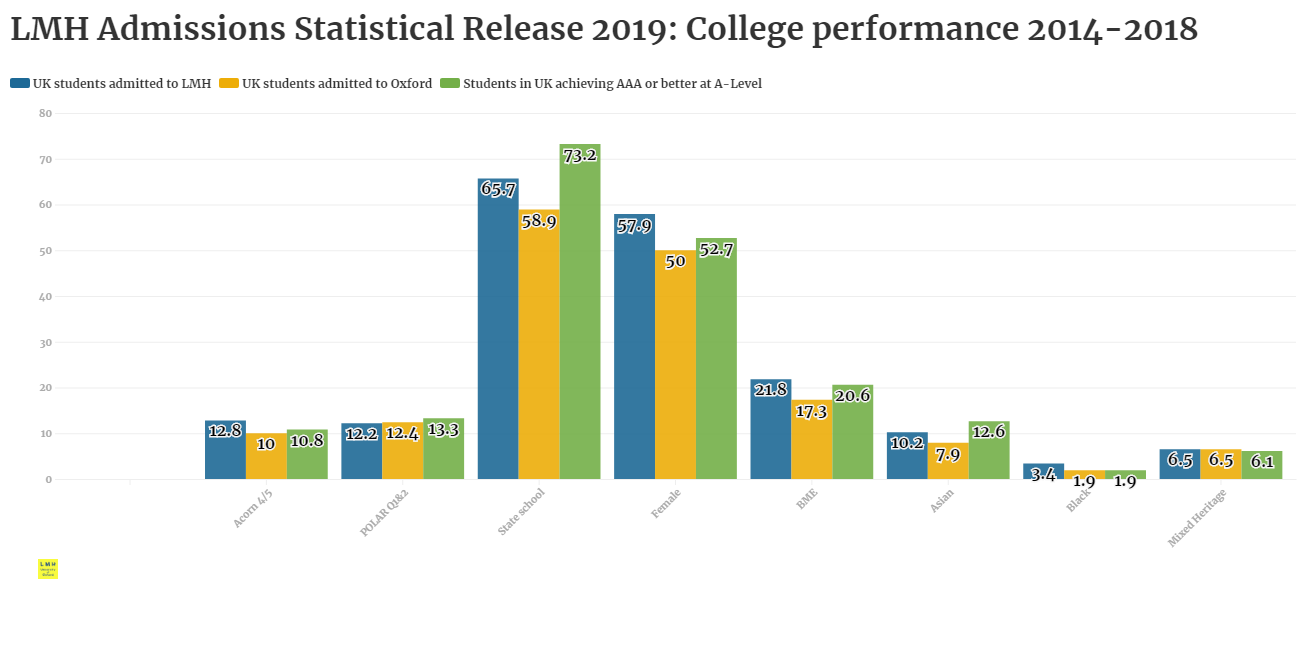 The annual admissions statistical report (2019) released by the University of Oxford on 6 June highlights the impact of the university's access work. 
There have been increases in the proportion of state school students; Black and Minority Ethnic students; students from socio-economically disadvantaged areas; and students from areas with low progression rates to Higher Education.
The new figures also show that Lady Margaret Hall is one of the most diverse colleges in the University. Out of eight diversity measures provided on a college level, we are amongst the top four best performing colleges for all but two: POLAR (which tells us whether a student is from an area where many young people attend University) and Mixed Heritage.
In the areas where we are performing well it is promising to see continued year-on-year improvement: Since the previous data release (covering 2013-2017) we have increased the proportion of students from socio-economically disadvantaged areas; state schools; BME; Black and Asian backgrounds in college.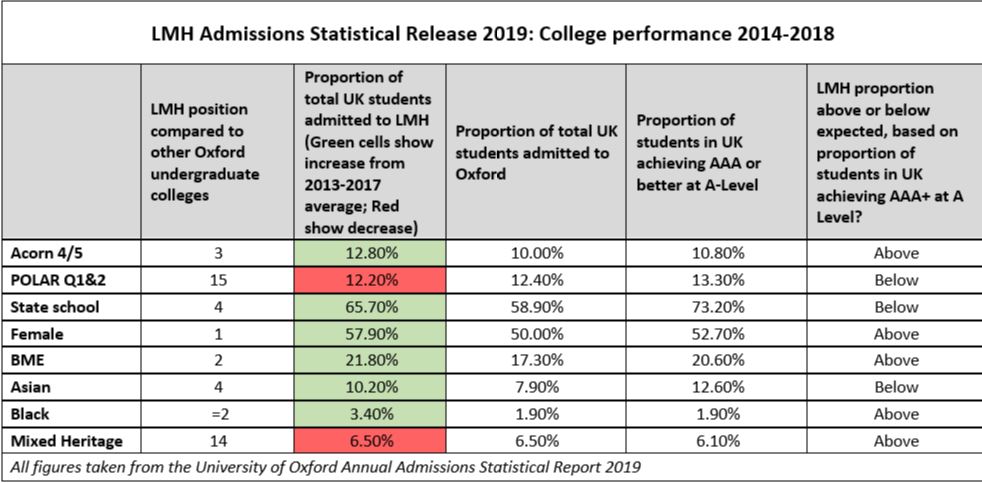 However, although we are proud of the progress that has been made, we know there is still much work to do. Our intake of state school students and Asian candidates is under-representative in terms of the national proportion of students achieving AAA+ from these backgrounds. This is in part due to factors such as subject choice, and we will be working to address this in our outreach programmes.
We also know that that not every student in the country has an equal opportunity of achieving AAA+ in their A-Levels, due to their socio-economic background. For the past three years our Foundation Year has tackled this issue. To date, 32 students who would not otherwise have studied at Oxford have enrolled on the programme. We are delighted that the University has announced that the Foundation Year will be expanded across other colleges, and we look forward to seeing the impact of this initiative on the wider University.
Finally, we have found that the data provided does not give us a very accurate picture on access to the University, particularly for students from socio-economically disadvantaged backgrounds. Our data from the Foundation Year suggest that we cannot rely on measures such as POLAR and ACORN to accurately identify individual students who have come from a disadvantaged backgrounds. We would like to see more information in the University statistical release on the proportion of students from Free School Meals households, and students whose parent(s) are in non-professional occupations. We therefore look forward to building not only on the access figures currently released by the University, but also on figures that centre on the experiences of individual students.
 Thank you to Esther Fisher for the data analysis