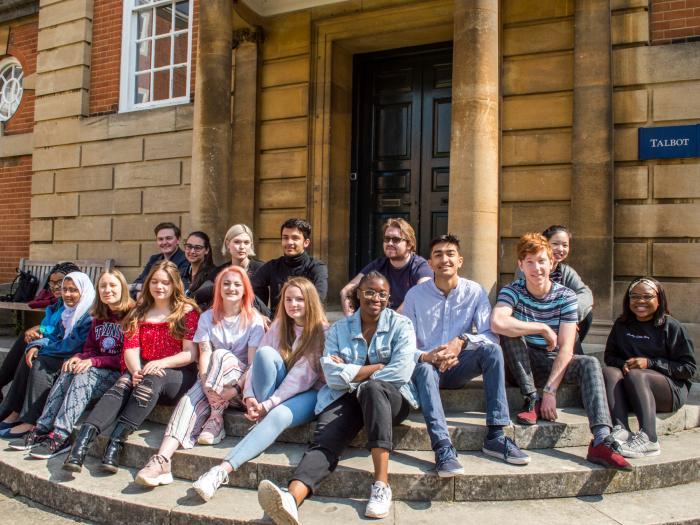 From little acorns… In October 2016 we launched our Foundation Year at LMH, admitting 10 remarkable young people who helped us pioneer and develop a new scheme for students who are under-represented in Higher Education. Today Oxford announces that it's adopting an expanded university-wide Foundation Oxford scheme as part of a wider package designed significantly to increase the numbers of such students here.
It's not yet an oak tree - but it does seem to me to be a really important route for the University. Foundation Oxford is one of two major initiatives announced today. The other scheme, which is being called Opportunity Oxford, is based on a parallel experiment launched at University College.
The Univ programme takes students who may have narrowly missed out on a place and offers them a two-week residential course just before the start of the academic year, which is designed to help them with specific subject knowledge and develop their academic skills and self-reliance.
Between them the two new and expanded programmes will offer pathways into Oxford for up to 250 state school students. The aim is to have one Oxford undergraduate in four from the UK's most under-represented backgrounds by 2023.
The original acorn for these types of programmes was the Trinity Access Programme at Trinity College Dublin, which has now been going for more than 20 years and has conclusively shown that - with the provision of a year long foundation course - a so-called elite university can help students from under-represented backgrounds matriculate as a full undergraduate. By the time they sit their finals they achieve the same academic standards as non-foundation year students.
The LMH-TCD link followed on from a chance meeting with the Provost, Patrick Prendergast, in the Long Hall pub in Dublin (which I can thoroughly recommend for such moments of convivial conversation and spiritual bonding). I brought the idea back to the LMH Governing Body. A small group of us went over to Dublin (more Guinness in the Long Hall) and were incredibly impressed by the graduates and faculty, as well as the course director, Dr Cliona Hannon.
The LMH Governing Body was enthusiastic. But there were two questions: where would the money come from, and when should we launch?
The first question proved an easy one: Neil Simpkins, who had come up to read Physics in 1984, wrote the cheque for the first year. Neil was a state school student from the North East and has always kept a keen interest in seeing more young people from his kind of background find a route into Oxford. Without his immediate generosity we would never have got airborne. Neil was quickly followed by others.
So when would we launch? We gave ourselves about nine months - which seemed eminently achievable but which (I now realise) was considered indecent haste by some Oxford colleagues. Belated apologies to them. We were so excited to try what we'd seen at TCD, but I can now see we broke a few eggs to make this particular omelette.
And so the first cohort arrived in September 2016 with no real idea what to expect. By now a tutor, Dr Jo Begbie, was running the programme with a helping hand from Cliona. The first pictures - with the Vice Chancellor, Louise Richardson, who has always kept a friendly eye on progress - show a nervous crew.
Why wouldn't they be? A few months earlier none of the students had expected to be at Oxford University.  Their average household income was just over £16k. They were a marvellously diverse line-up.
We're now on our third cohort and have just made offers to a fourth. We've had 100% retention on course; 100% Russell Group offers for those not progressing to Oxford; and three quarters of the students going on to be undergraduates at LMH.  
Last term I saw some of the first cohort for their regular second year academic review. As a group, they are performing in line with their peers. They have grown in academic and social confidence. We've learned an immense amount from them and they, in turn, have been such powerful advocates for other students from similar backgrounds to apply to Oxford.
So it's given us great pleasure to see Oxford pick up this pilot project and announce that it intends to develop it with the aim of spreading the scheme out to around 50 students by 2023. My personal hope is that, as other colleges realise what benefits a foundation year can bring, the programme may spread more widely still.
Meanwhile the University College bridging scheme, launched by the Master, Ivor Crewe, and the Senior Tutor, Andrew Bell, has also flourished. We all have much to learn from them and from other colleges such as Wadham, Hertford and Mansfield, who have all done truly pioneering work towards widening access and participation at Oxford.
A few personal thanks: Jo Begbie, Esther Fisher, Helen Barr, Cliona Hannon, Marrium Khan and Jo Murray at LMH have been an inspirational team in getting the LMH Foundation Year up, running and flourishing. The wider body of tutors has embraced the challenge with terrific relish, commitment and enthusiasm. Our Senior Tutors, Dr Fiona Spensley and Dr Anne Mullen, have been wise guides.
The whole LMH community - from Lodge staff, the College Nurse, catering, IT and the development office - has been marvellous in the warmth of their support and encouragement. The undergraduates have been open and welcoming. Vice Chancellor, Louise Richardson, has met each of the three cohorts and has, in the background, been actively urging movement on access issues. The President of St John's College, Maggie Snowling, and the Pro-Vice-Chancellor for Education, Martin Williams, have herded cats most effectively. It's notoriously difficult to get nearly 40 colleges and numerous faculties to get their signatures on an agreement. I'm still not entirely sure how Maggie and Martin - with support from Samina Khan in admissions - did it.
And then there are the LMH alumni. We were told to expect some form of backlash, but a vociferous majority has urged us on - volunteering cash, advice, support, mentoring, internships and much more. They know what Oxford meant to them, and they are motivated by a sense of inter-generational fairness to make their experience available to students coming after them.
Vast oak trees begin life as tiny acorns. In 2018, for the first time, Oxford admitted more women undergraduates than men. This was a mere 140 years after the little seed of Lady Margaret Hall took root, with its proposal to admit nine young women to Oxford in an unassuming house in Norham Gardens.
It is easy to forget how radical that moment was. Today - as we contemplate both Oxford and Cambridge adopting a form of the foundation year pioneered at LMH - we can take a modest satisfaction that LMH's pioneering instincts are still in rude health.