Poltergeist Theatre, a young company founded by LMH students, will have its new

show performed at Oxford's

North Wall Theatre. After the success of their popular

Edinburgh Fringe show 'xx' and an original translation of Bulgakov's 'The White Guard' staged in a Jericho bookshop, Poltergeist has won the only student slot at this professional theatre. T

his exciting new project is written and directed by Jack Bradfield, and produced by Charles Pidgeon (both s

econd

year English students at LMH).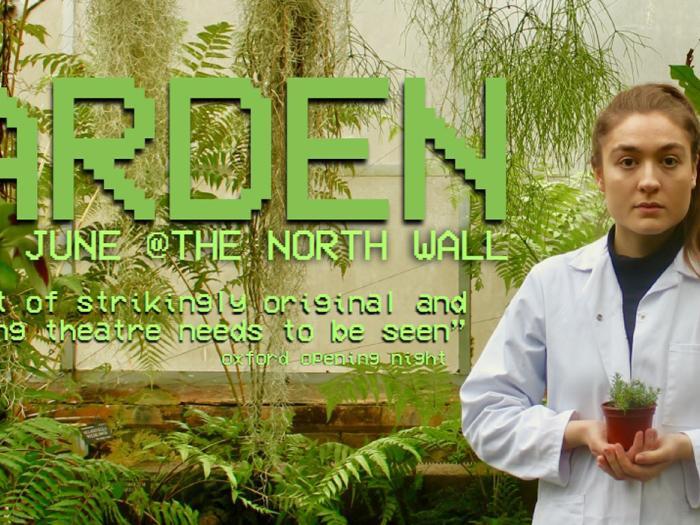 "I just find it a bit hard to believe."
"What do you find hard to believe?"
"All of it. Everything."
 
Garden is an ingenious social comedy about life in an enclosed scientific community. Oxford University's own Professor Nick Bostrom is one of the pioneers of a philosophical argument called Simulation Theory which contends that we are all digital beings living in a vast computer simulation. The play poses the question: what would it be like if your 9 to 5 job was to prove that nothing was real? Set in a remote research facility filled with plants, a motley crew of scientists (funded by an enigmatic tech billionaire) plan to escape the virtual bubble.
Poltergeist is a young Oxford-based theatre company who stage a mixture of new writing and reimagined classics. 'We're unbelievably excited to be working at the North Wall – it's a beautiful space', says producer Charles Pidgeon. "It's a stark contrast though! Our last show had audiences of twenty, now we've got 150 seats a night". Pidgeon is referring to Poltergeist's last show, Bulgakov's The White Guard, translated by Bradfield and Amy Perkis (a St Peter's student). The show was performed in the Albion Beatnik Bookstore – and sold out in three minutes.
"It's been a really collaborative process, we've reworked the script again and again. Simulated life has proved a mind-bending subject matter, and provided a rich vein of comedy - we've finally nailed a joke about a vegetarian spider!" says Bradfield, who originally workshopped the script with the Royal Court Theatre's Writers' Group. Bradfield has had previous work performed as a rehearsed reading at the National Theatre, and is a member of the Young Vic Directors' Network.