We are pleased to host the longest-running academic series on Research in Gender at Oxford. Join us in a tradition of gender research thirty years in the making.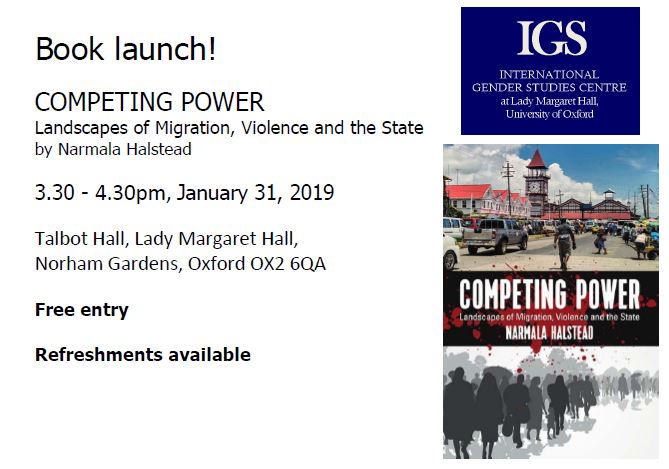 IGS Seminar Series for Hilary Term 2019
Convenors: Dr Ma Khin Mar Mar Kyi, Dr Angela Raven-Roberts and Dr Paul Woods
Thursdays 2pm – 3:30pm  at Lady Margaret Hall, Norham Gardens, Oxford OX2 6QA
WEEK 2

Professor Judith Okely

, Oxford, Hull, and Dr Lidia Sciama, Oxford
24 January, Talbot Hall: 'Autobiography within anthropology' and 'Midnight thoughts on autobiography'
WEEK 3

Professor Narmala Halstead

, Sussex
31 January, Talbot Hall: '"Others" and the field: ethics, compassion and violence'
Followed by Book Launch 3.30-4.30pm: Competing Power: Landscapes of Migration, Violence and the State by Narmala Halstead (Berghahn Books)
WEEK 4

Hannah J. Dawson

, Anthropology DPhil candidate, Oxford
7 February, The Old Library: 'Fatherhood, unemployment and the demise of patriarchal authority in South Africa'
WEEK 5

Dr Elizabeth Maber,

Cambridge
14 February, The Paul Ostler Room: 'Gendering violence and shame in Myanmar's education spaces'
WEEK 6

Rachel Dlugatch,

Anthropology DPhil candidate,

Oxford
21 February, The Old Library: 'Safe space as subaltern counterpublic: politicizing safety and spatializing freedom at a feminist bookstore and safe space in New York City'
WEEK 7

Usha Reifsnider

, Oxford Centre for Mission Studies, Oxford
28 February, The Old Library: 'Transcultural insights into the religious practices British Gujarati women'
WEEK 8: INTERNATIONAL WOMEN'S DAY
7 March 2-3.30pm Talbot Hall: "A Life Not Ordinary" documentary screening of tribute to celebrate the life of the late Professor Barbara Harrell-Bond as an academic, activist and founder of the Refugee Studies Centre at the University of Oxford
Seminar Programme for Michaelmas Term 2018
Vernacularizing 'Empowerment' - decentering feminist global discourse
WEEK 1. 11th October
Dr Stephanie Urdang, Independent Scholar and Writer
Mapping My Way Home: Reflections on Writing Feminist History as Memoir
WEEK 2. 18th October
Professor Nina Takashino, Tohoku University, Japan/Visiting Research Fellow at IGS
Women's Empowerment in Rural Matrilineal Society of Meghalaya, India NOTE change of VENUE: OLD LIBRARY
WEEK 3. 25th October
Dr Nina Ansary, Visiting Fellow, Centre for Women, Peace and Security, LSE
Iranian Women's Empowerment and The Global Fight For Equal Rights
* * *
WEEK 5. 8th November
Dr María G. Navarro, University of Salamanca
Gender and Social Capital in Deliberative Cultures
WEEK 6. 15th November
Dr Noorul Ainur Mohd. Nur, 2002 Goldman Sachs Visiting Research Fellow, IGS, University of Oxford
The Perspective of the Quadruple Helix Model: Establishing a Gender-Based Entrepreneurship Ecosystem
WEEK 7. 22nd November
Zhou Yunyun, University of Oxford
Narrating Funü Ganbu: Discourses, Representations and Subjectivities of Political Women in Post-Socialist China
WEEK 8. 29th November
Catherine Briddick, ODID, University of Oxford
Europe's commitment to combatting violence against women: rhetoric or reality?