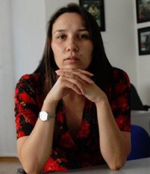 Selbi Jumayeva
My goal was to read, write and discuss, to get feedback and guidance, especially as my fellow activists and I are founding a new regional organization that will focus on knowledge production, which involves creating slow media outlet on various issues in Central Asia.
I also have a dream that I put aside or even dismissed few years ago, and it's doing academic work, in particular public intellectual work as an activist practice and long-term impactful contribution to my communities and movement(s). It means I have to develop completely new habits. It has been a big challenge for me to shift from grassroots community-organizing mind-set to individual work ethic. I have a wide range of interests, topics that I want to explore, from security and well-being of activists to urban space. Here at Oxford I have an opportunity to attend seminars and workshops often unimaginable back in Central Asia, especially in Turkmenistan. It's not only about topics, but also perspectives, paradigms and even environment. I chose seminars that will give academic skills (research, writing, analysis) and provide me with an insight into very particular issues, and even more show me how to move from general understanding to deeper investigation of particular aspect of one phenomenon. As an activist I have to be quick in understanding my situation, locate the experiences and cases within certain trends, and move on to strategizing and finally responding. I also attend seminars on Eurasia, which help me to see what are trending debates around my region, what paradigms dominate the perspectives and to connect with those who research the region, perhaps, for future collaboration.
I had a unique opportunity to attend a life-writing workshop: on biography, a particular emotional aspect of life-writing. It attracted not only professional writers, but mainly those who are writing about people and events that matter to them (grandparents, activism, connections built during fieldwork in foreign country). There were natural scientists who would not be able to use format of their profession to address what they could through life writing. My research interests connect mainly with two deeply emotional belongings that are part of my life: as feminist activist and Turkmen. Both are deeply personal and political, and shape my relationships and life path. Life-writing involves cultural theories, history and much more interdisciplinary research, ethics and rigor than I imagined. It's a craft one needs to practice and master. To start my research I need to use life-writing and auto-ethnography to deal with the experiences and knowledge(s) that are both valuable and somewhat deflecting me from narrowing the questions down. This way I will produce work which assumes different forms.