As Eurasia is facing a changing world order of adversarial global power politics and competitive regional and inter-regional alliances, it is important that future policy leaders and activists are aware of, and can work with, the instruments and standards of social, cultural, intellectual and legal protection offered by such international bodies as the UN, European Union and other key regional bodies. A key feature of the IGS WEF Programme is to familiarize fellows with relevant intellectual and academic discourses and, building on this foundation, to relate their research and learning experiences to specific issues within their own countries. Such a Programme provides them moreover with opportunities for learning from other regions and experiences.
 Another aspect, often overlooked, is noteworthy. Whilst, in certain respects, it is still too early to judge the long-term impact of our Programme, one recurrent statement made by WEF fellows carries particular resonance.
This is the often reiterated acknowledgement by them of an early impact of our Programme: our provision of a 'safe space.' It is characterized by fellows as a space where ideas, thought, deliberation, debate and reflection are facilitated and encouraged. Where it is possible to stand back from relentless pressures of oppression in all its multifarious forms, and re/discover one's inner resources and creative strategies for change. This impact, unsurprisingly, is felt at a most personal level but it is imprinted into the mind-set of the activist by challenging environments and political penalties. In the light of conversations with the fellows, we would argue that such a 'safe space' as we are able to provide is transformative; a space from which to emerge re-energized and strengthened by intellectual and social resources to engage anew – strengthened, moreover, by provision of pastoral support that we have come to realize is an integral part of ensuring sustainable impact at the most personal as well as political levels.
2017 WEF fellows participating in WASET Conference in Zurich
"The 19th International Conference on Gender, Society and Politics was held in Zurich on April 20-21, 2017. I delivered a paper on Syrian-Armenian women refugees (part of my current project) and received massive questions from the audience on the topic. I also received a conference certificate from the organisers. The conference abstract was published in a conference collection of paper presentations. The details and copies of the mentioned are also presented.
With my IGS WEF programme colleague Dr Dadashova we had some field work and meeting with Zurich colleagues within women studies and associations and shared our academic concerns and thoughts in the field.
Initially, we also planned to visit the Gender Studies Department at Zurich University. Our colleagues from the University wrote us that the period we were to be in Zurich was a holiday period for them at university and that they did not work during those days, thus, unfortunately, we did not manage to meet them though we still continue our online networking with them too."
- Ani Kojoyan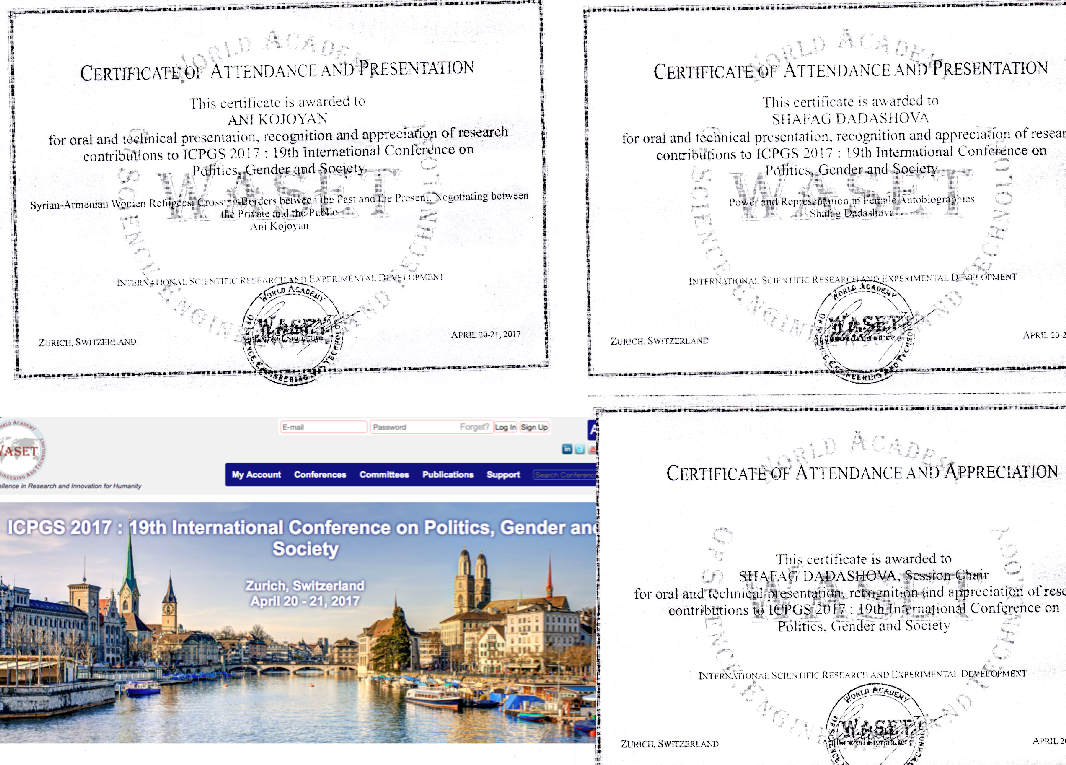 WEF fellow Ani promotes women's empowerment in Armenia
"As a WEF researcher and trainer, I participated in the 'Women's Empowerment in the Context of Gender Equality and Human Rights' on May 20-27, Yerevan, Armenia. The programme was organised and funded by the Youth Foundation of the Council of Europe. As a scholar and an education activist, I brought personal academic voice to the programme and to the participants who are active citizens within their communities and who will act later as change-makers in their communities and beyond. The participants were from Yerevan, six regions of Armenia, and the Republic of Artsakh. With my colleague Ms Narine Teknejyan we had a series of presentations, discussions and post-reflections sessions on SGBV, gender equality, human rights, women human rights, women and social institutions, women and politics, women writers, selective abortion, feminist economy, the Council of Europe's youth programmes, UN 1325, UN CEDAW, WEF (the Global Dialogues & Women's Empowerment in Eurasian Context Feminist Mentoring Programme) and IGS LMH research projects, through applying non-formal education methods.  We had a series of guest speakers from state and NGO sectors who shared their thoughts and concerns on the topic with the participants, among them UNCHR representative Tatevik Badalyan, "Society without Violence" NGO director Lida Minasyan, "Women Resource Center" Knarik Mkrtchyan, MP Ms Mane Tandilyan, president of the "The National Pool ofTrainers" Areg Tadevosyan, etc. We also had a group, team work and forum theatre activities where the project participants chose topics to present on gendered discourses and gender issues in Armenia." - Ani Kojoyan