Contact details
Email: j.m.okely@hull.ac.uk
Role: Formerly Deputy Director, now Research Associate IGS at LMH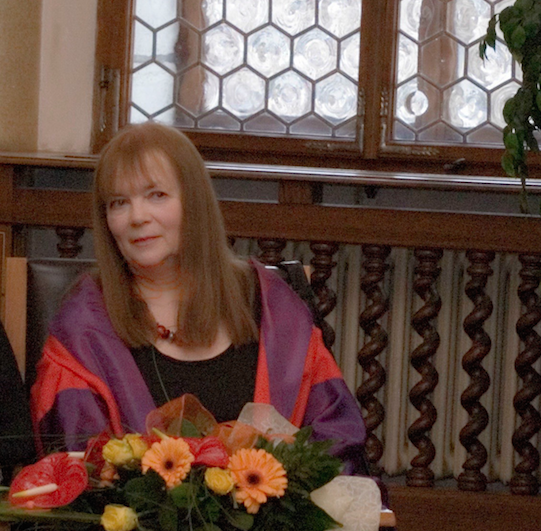 Biography
La Sorbonne, Paris, Degré Supérieur.   Oxford BA, MA. Politics, Philosophy and Economics. 
1st Woman Member of the Oxford Union.  Cambridge, Postgrad Cert. Social Anthropology. Oxford D. Phil in Social Anthropology. Lecturer at Durham and Essex Universities.  Professor at Edinburgh, then Hull Universities.
2011 Awarded the Seal of Pilsen City and Honorary Medal of West Bohemia University, Czech Republic as a 'World Scholar'. 2013 Paul Lazarsfeld Guest Professor, Vienna. 
2015  Meeting MALCOLM X Dec. 6.  BBC Radio 4,  Archive on 4. 'Malcolm X in Oxford' .
2015 Keynote Speaker Freie University of Berlin, conference on emotions.
2016 Keynote Speaker Nordic Conference on Romani Studies,  Stockholm.  
2017 Distinguished JJ Bachofen lecture, Basel University: 'Anthropologists writing down and writing up: through Fieldwork to Publication'. April 2017
2017 Keynote Speaker, University of Le Havre  for Workshop  'Politics for mobile and light housing environment' 
Research interests
Gypsies, Travellers, Roma. Rural Normandy and Eastern England. Fieldwork and Ethnographic Methods.  Auto/Ethnography. Feminism and De Beauvoir.
Teaching
2013/2016 External Examiner: University of Wales (Lampeter) : BA in Social Anthropology and MA in Heritage. 2015 External Examiner Phds at Bournemouth, Dublin and East Finland Universities. 2017 External Examiner Phd Kent University.
Current Doctoral Supervision
Cambridge University, Joint supervisor for phd Student in social anthropology.
Selected publications
1983  The Traveller-Gypsies,  Cambridge University Press,
1986  Simone de Beauvoir: a Re-Reading, Virago
1992  Anthropology and Autobiography co ed with H. Callaway, Routledge
1996   Own or Other Culture. Routledge.
2001 'Visualism and Landscape: Looking and Seeing in Normandy' in Ethnos Vol 66:1
2007  Identity and Networks : Fashioning Gender and Ethnicity across Cultures co-ed with D. Fahy Bryceson and J. Webber, Berghahn
2008   Knowing How to Know (Co. eds N. Halstead, E. Hirsch and J. Okely)  Berghahn,
2012   Anthropological Practice: fieldwork  and the Ethnographic Method.   Berg/ Bloomsbury.
2015 'Dialogues with Anthropologists: Where Interviews become Relevant ' in Extraordinary Encounters: Authenticity and the Interview eds K. Smith,  J. Staples and N. Rapport, Berghahn
2017 'Learning through the Ludic' in 'Humour, Comedy and Laughter' ed
Edited by Lidia Dina Sciama, Berghahn