"Even though the College has gone through some tremendous changes in the past few years, I was thrilled to discover so much in common with alumni of LMH. Moreover, I found my passion for the future of LMH as an academically excellent college that welcomes young people regardless of their start in life, is overwhelmingly shared."

Charlie, 1st year Physics (back row, third from left)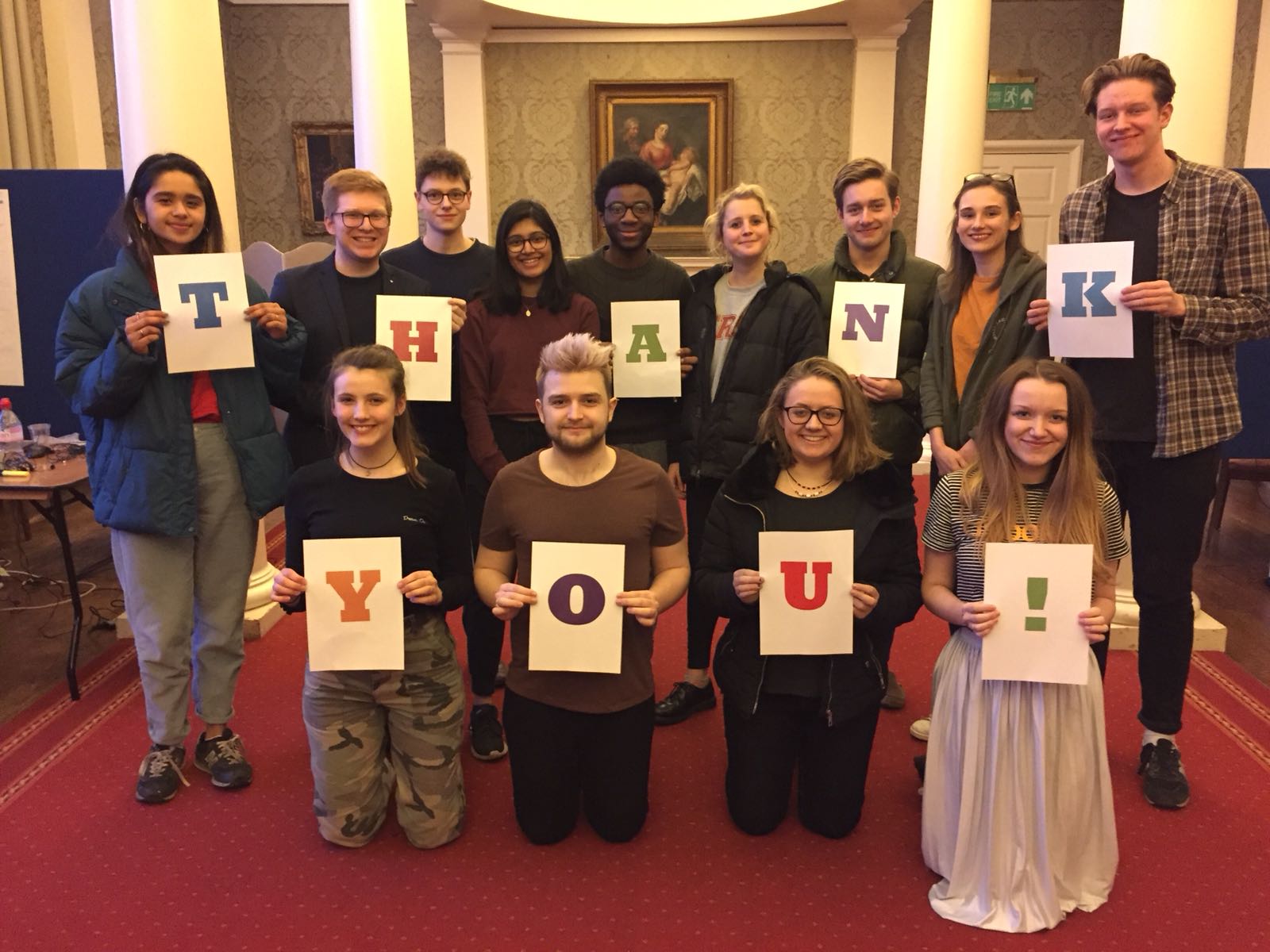 Results of the 2018 Telephone Campaign
Out of the 565 alumni our student callers spoke to half decided to make a gift, raising over £204,000 for the College over the next 5 years. We were thrilled to have such a wonderful response to this year's Telephone Campaign, and want to say a big thank you to all of those who took the time to speak to one of the students.
There is still time to get involved
If we missed you in this year's campaign but you would still like to support the Annual Fund this year, you can still get involved.
A gift to the Annual Fund can be directed to one of many areas of LMH life and our students will have information about all the projects for which we need support. Our priorities for this year are Outreach and student support, and the Foundation Year but you may also give in support of the following areas: the LMH Library, Student Support, Teaching and Fellowships, the Ann Kennedy Law Graduate Scholarship, and the College Life & Welfare Fund.
If you have any questions about the Telephone Campaign, Annual Fund or any aspect of making a gift to LMH at this time, please contact the Development Office or telephone the team on 01865 274362.
Meet the Student Callers!
We asked our student callers to tell us a bit about themselves. Here is what they said:
In the photo below, back row, left to right:
Shoma
I'm Shoma and I'm a second year English student. In my first year I was First Year Officer, which was an amazing opportunity that allowed me to create an inviting atmosphere for the incoming freshers. It was a very fulfilling job, as I wanted to share my wonderful experience of first year and ensure the new first years would feel the same way. LMH feels like a loving and large family, including both current and past students.
Ollie
Hi I'm Ollie! I am a 2nd year biochemist and am also the Male Welfare Officer for the JCR. I am a lover of music and in my spare time I have been writing for the music and style magazine at Oxford, PHASER. My time at LMH has been brilliant so far, and I look forward to hearing more about your time here too.
Nick
I'm Nick and I'm a 3rd year medical student at LMH. As I come to the end of the first half of my degree, I can honestly say that I've had a blast! I've relished the work-hard-play-hard lifestyle that Oxford provides. In my spare time, I enjoy exercising and socialising with friends, as well as being Entertainments representative for Oxford MedSoc.
Charlie
Studying physics at LMH has cemented my ambitions of becoming a professional scientist. My perceptions and opinions about the world have been constantly challenged in both academic and social environments. It is a treat to be a part of such a vibrant community. My biggest interests in College are music-related. I have been in the choir and I have run the LMH Jazz band – we perform every term on a night of free wine and copious dancing in Talbot Hall! Last year I was a member of the LMH University Challenge quiz team. Although we didn't make it onto the show, we are hopeful about this year's team! I've loved being a student at LMH and I can't wait to hear your experiences of uni life.
Middle row, left to right:
Molly
I'm Molly, a second year English student and JCR Vice President. On top of my degree, I'm also company secretary of Oxford Student Publications Ltd. and work for Oxford RAG. I enjoy creative writing aside from the essay-based side of my degree.
Millie
Hi, I'm Millie Jones and I study in chemistry. My first year has been so exciting so far and I've loved getting to know the lovely community at LMH. When I'm not in labs or the library, I enjoy playing netball for the university and LMH.
Brian
My experience so far has been intensely interesting, engaging, challenging but equally just as fun – ranging from weeks so busy free time is a valued commodity, to weeks where I get the chance to explore and appreciate my being here. My free time is mainly spent coxing for the LMH Boat Club and, whenever I get the chance, signing with the College choir or trying to capture the beauty of the University Parks or LMH gardens with my camera. I look forward to talking to you about your own experience of being here, both at LMH and the wider University.
Emily
Hi! I'm Emily and I'm a first year studying PPE at LMH. I've had an amazing couple of terms here at LMH and am really excited about taking part in the telethon. I've been involved in some really fun groups here in College, such as FemSoc, organisation for International Women's Day and some College sport. I've also enjoyed being involved in University Music groups this year – a great way to get to know some people outside of College. I can't wait to learn more about LMH and other people's experiences here!
Front row, left-right:
Joe
I'm Joseph and I am on a one year Masters reading Classical Archaeology. I was also at LMH for my undergraduate degree, so it's been an important part of my life for four years. Both the JCR and MCR are active and friendly communities, and there have always been plenty of lively societies and sports teams to get involved with. When I'm not researching in the LMH or Sackler Libraries, I am a committee member of the Newman Society, which has a strong LMH cohort. I look forward to hearing more about your experiences as an LMH undergraduate or graduate.
Nina
I'm Nina and a first year PPE student at LMH. I came after a year full of travelling and I thought I wouldn't be able to fit into Oxford life at all but I couldn't have been more wrong. I love pretty much every aspect of college life, from the amazing community atmosphere, to the intimate teaching style to the extra curricular activities. Helping with the International Women's Day conference has shown me how much you can achieve when you set your mind to something and I can't wait for the next two and half years to develop my interests and throw myself into more things.
Ana
My name is Ana and I am a first year historian at LMH. I still can't quite believe that I'm here but so far my experience has been really fun, enjoyable, horrendously stressful and definitely challenging. I am working alongside the University's Access and Outreach programme as an ambassador, and I am passionate about helping young students from different backgrounds apply to higher education and achieve their potential. I look forward to speaking to alumni and learning more about their experiences both in and outside college!
Pip
I'm Pip, and I am a third year studying French and Russian, having spent 8 months in Yaroslavl, Russia last year. I'm loving being back in College, sitting on the exec as LGBTQ+ officer, working in the bar, and acting as President for the Ornithological Society. I found it strange how so much had changed after just one year away from LMH, so it would be really interesting to talk about what has changed and what has stayed the same since you were here.
"The Telephone Campaign gave me the opportunity to hear about a wide range of careers and life journeys. It made me excited about life after Oxford and made me realise how big the world is, and how people don't always stay with the career they started with. It also added to my ever increasing affection for LMH hearing about how it's evolved through the years to become ever more diverse and accommodating. It was lovely to hear about the antics different alumni got up to while they were here and the range of stories and experiences from brewing their own wine in their rooms to ice skating down the Cherwell in winter!"

Nina, 1st year PPE (front row, second from left)