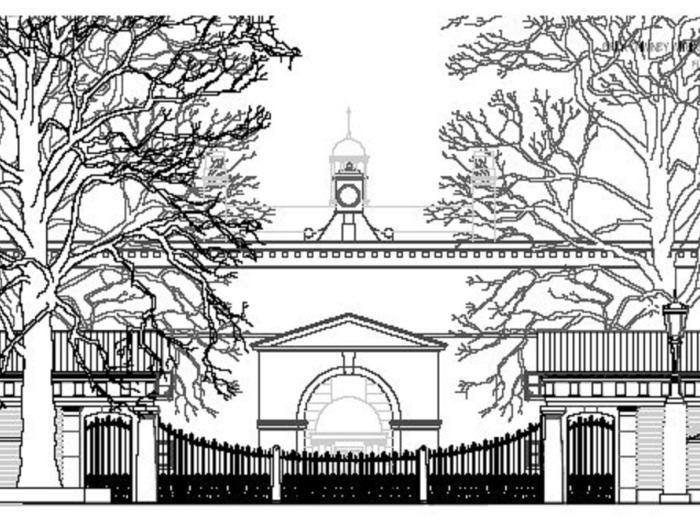 John Simpson Architects have enabled LMH to make a distinctive contribution to Oxford architecture by continuing the tradition of successive LMH architects Basil Champneys, Reginald Blomfield, Giles Gilbert Scott, and Raymond Erith.
John Simpson is a leading architect working in the classical tradition. Much of his work has involved new buildings in historic settings, and his designs for LMH showed great sensitivity to the college's fine group of late 19th and 20th century no-classical buildings. The new buildings were designed to complete and enhance the harmonious development of the site, and create an impressive new entrance.
John Simpson is probably best known for the Queen's Galleries at Buckingham Palace, and more recently the redevelopment of the Stanhope hotel opposite the Metropolitan Museum in New York. His practice has won numerous awards – including the Georgian Group Architectural Award for the Best New Building in the Classical Tradition for Pipe Partridge, our undergraduate building, in 2010.
Below, John Simpson explains the vision underlying his design for our second phase of new buildings back in 2012:
"The next phase of our work will transform the college by providing both a new welcoming entrance for LMH and by creating a social and residential centre for graduate students, a facility offered by few other colleges. 

The area in front of LMH off Norham Gardens is currently neither part of the street nor part of the college but a jumble of cars and bicycles in front of the rather forbidding frontage of Wolfson West.  The front of the LMH was never intended to be like this; Raymond Erith, the architect responsible for Wolfson West, envisaged his building as part of a new entrance quadrangle but after 1964 the work went unfinished.  Now, we have the opportunity to complete the sequence of spaces that should form the entrance and transform the way the college is perceived.  The new Porter's Lodge building on the left and the new Graduate Centre on the right will enclose a new open and welcoming quadrangle that frames Wolfson West.  On the Norham Gardens boundary, a central gateway flanked by elegant cast iron screens will sit between two pedimented entrance lodges.  The new three-sided entrance quadrangle will alter beyond recognition the experience of arriving at the College and will give it the appropriate public presence it deserves.

The new Graduate Centre will provide a hub for graduates right at the front of the college.  Whilst many colleges send their graduates to the outer reaches of the city, Lady Margaret Hall will be able to offer its graduates a place to call home within the college itself.  In addition to the normal MCR spaces, the centre also includes a thirty five foot long, double height hall that can be used for a range of different uses.  These rooms are arranged so that the doors between them can be flung wide to create a really large space for functions both during and outside term time.  Each of the two new buildings contains teaching rooms to augment the college's current provision.  Spread across the upper floors of both buildings are forty three new en-suite graduate rooms and an accessible guest room on the ground floor.  Such a fine graduate facility will help LMH attract the best graduate students and encourage them to integrate fully into the life of the college."