There have been two obvious and remarkable changes at LMH this past term.  The first is physical: a new entrance and graduate centre for the college. The second is both social and educational: the creation of a new Foundation Year for young people from under-represented backgrounds.
 
The first change may be more obvious. As you come down Norham Gardens today you're not faced with the slightly unforgiving facade that the architect Raymond Erith designed for Lady Margaret Hall in the late 1950s. Now there is a new front quad flanked by neo-classical porticos.  The new Porters' Lodge will be one of the most magnificent in Oxford. We are lucky indeed to have these wonderful new buildings.
 
The second change may well be equally profound. Ten students enrolled in the Foundation Year scheme in September - arriving a week before the regular undergraduate cohort - and have been studying and living at LMH all term.  The idea was to seek out young people from the kind of under-represented groups which Oxford University has promised the government to target;  and to give them the sort of educational help they need to be ready for an undergraduate course.
 
Oxford is looking for more students from people who come from areas of economic deprivation, or from schools which have historically sent few, if any, students to the university.
 
Our cohort meets both criteria. The average household income for our students is just over £13,000.  Until we advertised the scheme, none of them had believed Oxford was for people like them. Some have had very disrupted educations (two of them attended more than 30 schools between them up to A level). Others have had to overcome significant family difficulties. For some, English was originally their second language.
 
Yet these young people emerged with A level scores which - while not good enough across the board to secure a place on an Oxford undergraduate degree course - were in many cases just a few points behind contemporaries who had performed outstandingly at A level, most of whom had benefitted from a more secure start in life.
 
That is the nature of the potential of this group. And that gap is the one we aim to bridge with the Foundation Year.  We have teamed up with Trinity College Dublin, whose Access Programme has now been running for 17 years. TCD has found that, over time, nine out of 10 young people on their foundation year go on to matriculate - and that, thereafter, they perform as well as any other student.
 
Our group - seven girls, three boys - are diverse, hard-working, bright and resilient. They arrived at LMH with a fair measure of trepidation. They did not have the self-confidence of some of their peers. Would they be able to cope with the work? Would they be accepted by their student contemporaries?
 
After eight weeks the transformation is well under way. Their teachers have observed a group of young people that has grown remarkably in confidence, knowledge and ability.  Their fellow students have been tremendously welcoming. The Vice-Chancellor, Louise Richardson, came to greet the students in their first week. The wider university has pointed to the existence of the course to rebut the usual complaints about lack of diversity. A picture of the LMH cohort with Professor Richardson was used on the front of Oxford's website to mark the start of the new academic year.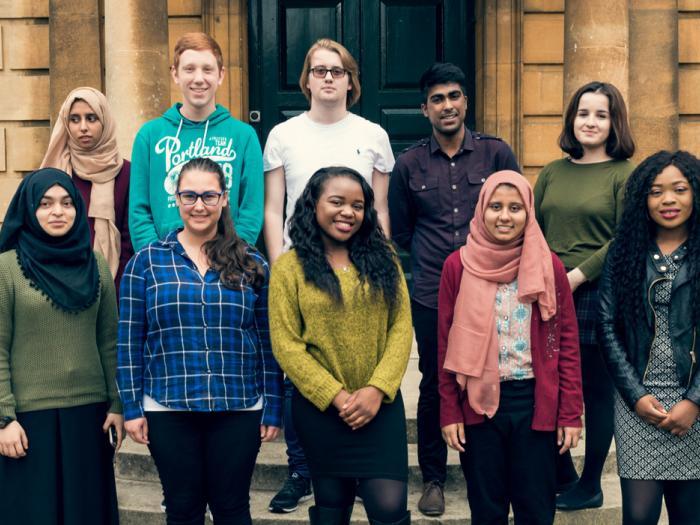 Our Alumni have been most generous in their support of this pilot scheme - the first to be pioneered in Oxford or Cambridge.  Most of the cost of the first year was met by just one remarkable donation - from Neil Simpkins, who studied Physics at LMH in 1984. Neil went to a comprehensive school on Teesside and told me when I first met him that he would always do his best to help people like him - a young lad from a modest background whose life was transformed by LMH.
 
At the end of their first term the students decided to write to their benefactor to tell him of their progress. Two told of attending schools where teachers had come and gone with such regularity that they had no consistent education. One wrote: "I no longer think that the Oxford experience is exclusively for well-off students." Another said: "I assumed Oxford was for the rich."
 
One described a background in a very deprived area of Britain: "I was always embarrassed by this fact but I now say it with a sense of pride because I regard it as an achievement to come where I am from and end up making it onto a foundation year in Oxford… Everyone has been lovely, kind and incredibly welcoming. I have made friends with people I didn't think I could ever be friends with."
 
Another wrote: "Oxford had always been a distant and unattainable goal for me: it might as well have been located on a different planet." All spoke of their hugely growing confidence in writing, thinking and speaking.
 
I leave the last word to one of their tutors: "They are bright, easily on a par with my students who are obtaining 2.1 classifications, but they have an ambition that outstrips many of the students I have seen…None of them would have even been recommended to apply to Oxford, despite the fact they were top students in their schools.  It is clear to me that the field they play on is certainly not level and had they had access to better tuition, they would have been able to compete well against our normal candidates.
 
As they go back to their communities at Christmas the ripple effect of the Foundation Year will begin. Their families, friends, schools and peers will, we hope, realise that Oxford is not always how it is portrayed